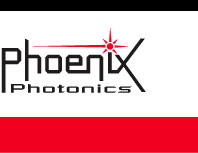 Fiber Polarization Controllers
Polarization issues are of critical importance in optical fiber systems, Phoenix Photonics range of fiber optic polarization controllers and detection products are designed to give the system designer maximum flexibility using optimum performance components.
The Phoenix fiber polarization scrambler is part of the FireBirdTM instrumentation range and provides for polarization state scanning in a compact modular format.

The electronically driven polarization controller offers the option of three section manual control or external analogue voltage control. Full state of polarization control is achieved by three cascaded variable fiber waveplates.

1

The Phoenix Photonics 3 loop polarization controller provides complete Poincaré sphere coverage by adjusting the three paddles. The design utilises three fiber waveplates which can be varied to modify the sate of polarization.

2

Phoenix Photonics state of polarization (SOP) scanner utilizes three variable all-fiber waveplates to provide full coverage of the Poincaré sphere enabling conversion of any input SOP to any required output SOP.

3

Phoenix Photonics variable waveplate is a compact, simple to operate, all-fiber device for wideband operation. Applying a current to the pins gives a controlled modification of the linear birefringence within the device.

4

Phoenix Photonics polarization switch enables the conversion of an input linear state aligned on the input polarization maintaining fiber axis to be switched between either of the orthogonal output axes.
---
For excess stock items and reductions on other optical fiber products visit the All-Fibre online shop