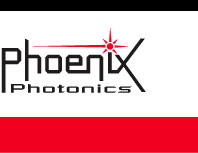 Electronic In-Line Fiber Polarization Controller - EPC With Optional Microprocessor Based PC Interface
The Phoenix in-line electronic polarization controller is built using the Phoenix in-line scanner. Three knobs are attached to the top of the unit for manual control, giving complete coverage of the Poincare sphere. The EPC alone requires analogue voltage control to operate. However, bought together with the PCI microprocessor interface, the EPC can be connected directly to a PC and controlled through the provided software.
The all-fibre in-line polarization controller operates using Phoenix's unique thermal technology. This technique offers very stable polarization scanning with excellent environmental stability in comparison to competing technologies. In addition, the device is fundamentally less expensive to manufacture offering significant cost benefits while not affecting design and manufacturing quality.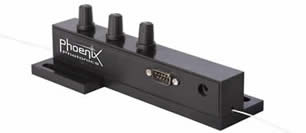 ---------------------------------------------------------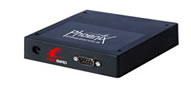 ----------------------------------------------------------------
In-Line Polarization Controller Features

In-Line Polarization Controller Applications

Electronic and manual polarization control
Simple operation
Any output SOP achievable
Low insertion loss
High return loss
High extinction ratio maintenance

Polarization control
State of polarization scanning
Component testing
Sensor systems
Optical fiber polarimetry
PMD emulation

EPC Microprocessor based PC Interface Features

EPC Microprocessor based PC Interface Applications

USB interface to PC
Phoenix polarization control software
D-type connection compatible with EPC
Power supply input/output

PC control and programming of Phoenix EPC
---

Based on the Phoenix Photonics polarization scanner, the controller offers the option of three section manual control or external analogue voltage control.

- View datasheet

The Phoenix PC interface for the electronically addressed polarization controller (EPC) is part of the FireBirdTM instrumentation range. The simple interface enables the EPC to be controlled and programmed using software developed for the multi-channel polarization controller.

- View datasheet