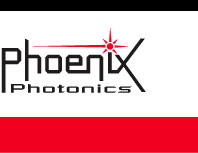 In-Line Fiber Polarimeter
The Phoenix in-line fiber Polarimeter is part of the FireBirdTM instrumentation range and provides for minimally invasive polarization analysis in fiber systems. Based on a miniature in-fiber Polarimeter, this compact module is designed with versatility in mind and can be inserted into a fiber system at any point to measure the specific State of Polarization (SOP). Fully controlled from a PC the Stokes parameters are obtained at a high rate (>1M Sample/s) and the data can be processed as required by the user through the PC user interface.
The versatility of the module enables continuous high speed Stokes parameter analysis to provide DOP and SOP. The unit can also be used to make accurate measurement of polarization for PMD and PDL measurement.
The on-board microprocessor links to the PC through a USB interface. Software provided with the Polarimeter gives Stokes parameter measurement, Poincare Sphere display, Polarization ellipse display and parameters such as DOP.
| | | |
| --- | --- | --- |
| SPECIFICATION: | Units | Each fiber channel |
| Wavelength range | nm | C-band (1530 – 1570) extended range on request |
| Insertion Loss1 | dB | <0.8 |
| Return Loss1 | dB | >55 |
| PDL (max) | dB | 0.15 |
| Operating Temperature Range | 0C | -5 to 50 |
| Storage Temperature | 0C | -40 to +85 |
| SOP accuracy | % | <1 |
| DOP accuracy | % | +/-1.5 |
| Sampling rate | Samples/s | >1,000,000 |
| Communication interface | | USB |
| PC control | | Software for polarization analysis |
| Power | | Mains adapter for 110V to 240V |

View datasheet